Salmon
Click on any of the product names or pictures below to see more detail and to place an order online. All product comes in 1 pound sealed packages, complete with a QR code and information about the boat, fisherman and tackle used all for purposes of sustainability and transparency. 1 portion is approx. 16 oz (1 lb). We recommend 6-8 oz per person. A pound or two of scallops and shrimp included in recipes with other delicious and hearty ingredients goes a long way for 4 persons. Prices are subject to change, but we strive to keep best priced.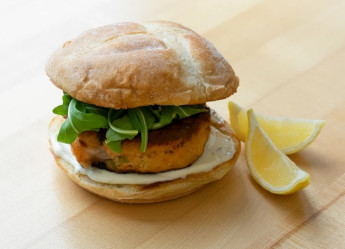 Packaged 2 patties per pack. Cook throughly and properly! Consuming raw or undercooked meat, poultry, seafood, shellfish or egg may increase your risk of foodborne illness. Click More for cooking instructions!
More
$15.00
$13.30
This item is individually packed 1 lb collars. Salmon is tender, mild flavored and has remarkably high levels of omega-3 acids, protein and vitamin D content. A favorite for its versatility and health benefits. Great on the Grill! In stock now!
More
$6.95